organic teas & excellence
Darjeeling FTGFOP Chamong - Organic
Organic black tea from India
round, fruity, without bitterness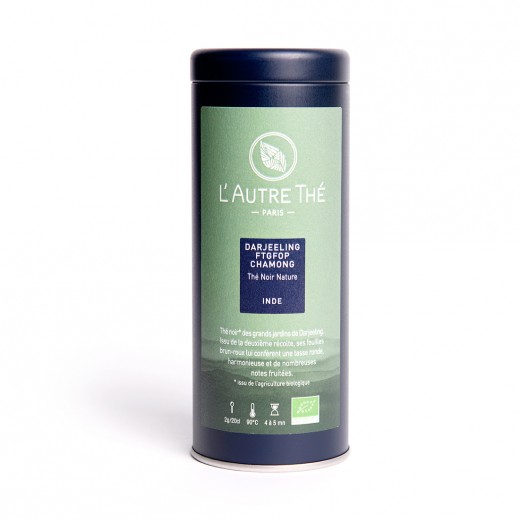  
Darjeeling FTGFOP Chamong - Organic
Organic black tea from India round, fruity, without bitterness - Inde - En stock

Description
The organic Darjeeling FTGFOP tea is from the second harvesting of the organic Chamong plantation, in the Great Darjeeling Gardens. Its coppery leaves provide a tea deliciously plain and balanced, enhanced with fruity notes nearly caramelized. This tea is not bitter at all. 
*Organic certified by Bureau Veritas FR-BIO-10
Ingrédients

Temperature of Infusion
90° C

Infusion time
4 minutes

Theine content
High

Time of the day
Morning
Joelle P. published the 25/11/2020 following an order made on 30/10/2020
Voilà plusieurs fois que le commande , je l'aime beaucoup pour le matin
MURIEL L. published the 16/11/2020 following an order made on 09/09/2020
Un thé d'exception
Fabrice E. published the 23/03/2020 following an order made on 06/02/2020
on ne retrouve pas le résultat escompté pour un FTGFOP etc.... sans arôme ni saveur ne vaut pas le coup (ni le coût) selon moi, of course, mais puisqu'on me demande mon avis...
Comment from L'AUTRE THE the 28/07/2020
Bonjour, Merci pour votre message. Nous sommes profondément désolés que ce thé ne vous plaise pas. N'hésitez pas à goûter notre Darjeeling de printemps, actuellement disponible sur notre site internet. Bien coridalement, Le service clients