organic teas & excellence
Paris en fête
Black Christmas tea
Vanilla - Spices
 
Paris en fête
Black Christmas tea Vanilla - Spices - En stock

Ingrédients
Black tea, cinnamon pieces, apple pieces, almonds, cloves, orange zest, red rose petals, pieces of vanilla.
Description
Formerly called "Christmas in Paris", this tea "Paris en fête" is a blend of black teas from China and Ceylon with aromas of spices and vanilla. Dotted with cloves and rose petals, it is embellished with flaked almonds, pieces of apple and cinnamon.
A "must" among the Christmas teas of L'Autre Thé.

Temperature of Infusion
90° C

Infusion time
4 - 5 minutes

Quantity
25g

Theine content
Medium

Time of the day
Afternoon
Fabienne M. published the 23/03/2020 following an order made on 02/02/2020
Esprit de noël ... des épices mais pas trop
Elodie B. published the 10/01/2020 following an order made on 29/11/2019
Un classique que je connais depuis plusieurs années et que j'offre aussi.
Christine J. published the 27/12/2019 following an order made on 15/12/2019
C'est mon thé d'hiver préféré : goûteux, corsé, épicé ! Il réchauffe le cœur et le corps !!
You might also like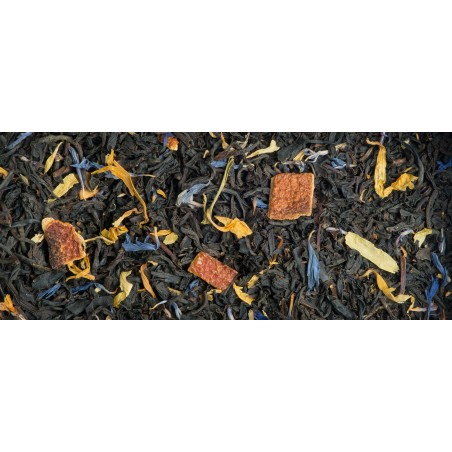 Black Christmas tea
Citrus - Spices
Organic black Christmas tea
spices - citrus - vanilla