organic teas & excellence
Black'n Mojito
Black tea
Mint - Lime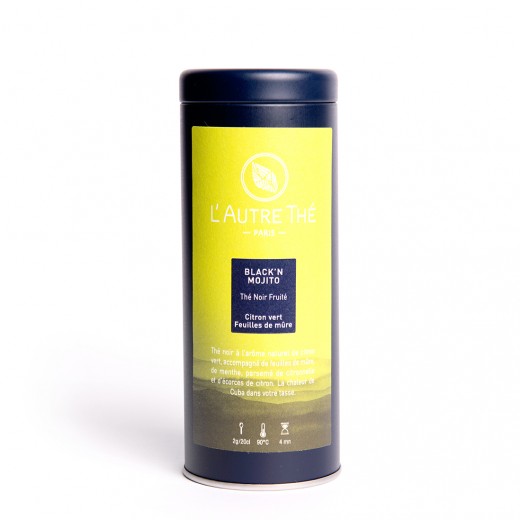  
Black'n Mojito
Black tea Mint - Lime - En stock

Ingrédients
Black tea, flavour, black currant leaves, spearmint, cinnamon pieces, grapefruit zest, lime pieces, lemongrass, white hibiscus, licorice root, sunflower petals.
Description
Black tea with the natural aroma of lime, accompanied by mulberry and mint leaves, sprinkled with lemongrass and lemon peel.
The warmth of Cuba in your cup. To enjoy hot or iced!
The Punch Recipe "BLACK'N MOJITO" by Arnaud DHENIN:
Infuse 10 g of Black'n Mojito in 1 liter of warm water for 2 hours.
Pour everything into a bowl filled with ice cubes.
Add 10 cl of good quality rum (Dillon, 3 Rivers ...).
Add 2 tablespoons cane sugar and mix well.
Add slices of lime and mint leaves. Serve cool!

Temperature of Infusion
90° C

Infusion time
4 minutes

Quantity
25g

Theine content
High

Time of the day
Afternoon
Nathalie H. published the 13/08/2019 following an order made on 31/07/2019
bien
Danièle R. published the 11/08/2019 following an order made on 04/08/2019
Tres frais et parfumé. Glacé super
Eloïse L. published the 30/06/2019 following an order made on 23/06/2019
J'adore... la famille aussi ! Frais et fin mélange de citron et de menthe !
You might also like
Organic black tea
Ginger - Lemon
Organic green tea
Ginger - Lemon
Organic green tea
Yuzu - Mint - Cardamom