organic teas & excellence
Après l'école - Organic
Fruit tea:
Cherry Blossom - Almond
 
Après l'école - Organic
Fruit tea: Cherry Blossom - Almond - - En stock

Description
New organic recipe!
This Organic "After School" new recipe is a fruit fountain based on pieces of apple, rosehip bark (rosehip) and orange.
It is decorated with small pieces of beet, raspberry and cherry.
It is fragrant with natural aromas of cherry and almond.
A sweetness for young and old!
It can be drunk hot or iced.
Without theine, surprise assured!
Ingrédients
Apple, hibiscus, rose hip, aroma, cherry (3%), cornflower flowers, safflower flowers.

Temperature of Infusion
100°C

Infusion time
At least 5 minutes

Quantity
25g

Theine content
Theine free

Time of the day
Evening
Carine B. published the 21/08/2020 following an order made on 21/06/2020
Gourmand et bien fruité, c'est notre préféré en famille.
Louis G. published the 20/08/2020 following an order made on 06/06/2020
Je préférais l'ancienne recette qui était plus acidulée et équilibrée, je complète le mélange avec de l'hibiscus
Sandrine T. published the 08/08/2019 following an order made on 31/07/2019
Le goût de l'amande est très prononcé mais le côté acidulé et le goût de la cerise compense et rendent ce thé très gourmand.
You might also like
Green Christmas tea
cinnamon - almond
Organic fruit tea:
grenadine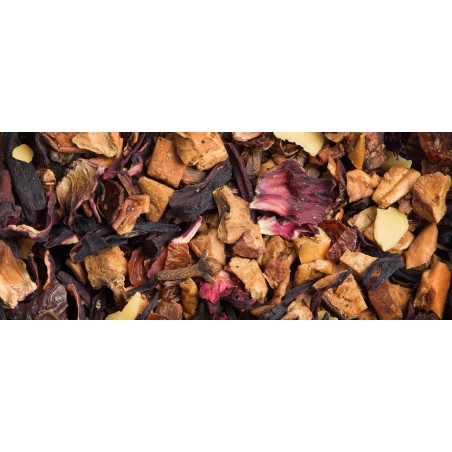 Spicy Christmas fruit tea