organic teas & excellence
Après l'école - Organic
Fruit tea:
Cherry Blossom - Almond
 
Après l'école - Organic
Fruit tea: Cherry Blossom - Almond - - En stock

Description
New organic recipe!
This Organic "After School" new recipe is a fruit fountain based on pieces of apple, rosehip bark (rosehip) and orange.
It is decorated with small pieces of beet, raspberry and cherry.
It is fragrant with natural aromas of cherry and almond.
A sweetness for young and old!
It can be drunk hot or iced.
Without theine, surprise assured!
Ingrédients
Apple pieces*, rosehip peel*, orange peel*, beetroot*, natural flavour, raspberry pieces*, cherry pieces*

Temperature of Infusion
100°C

Infusion time
At least 5 minutes

Quantity
25g

Theine content
Theine free

Time of the day
Evening
Edwige D. published the 25/11/2020 following an order made on 09/11/2020
Une eau de fruit agréable, une de mes préférées
Sandrine T. published the 25/11/2020 following an order made on 04/11/2020
Très déçue. Je commande puis 3 ans ce produit qui a totalement changé ! on ne sent plus le gout sucré et fort ni de la cerise ni de l'amande. Et le petit goût acidulé que j'aimais tant à disparu aussi, totalement fade... vraiment triste de ne pas retrouver le plaisir d'avant...
Carine B. published the 21/08/2020 following an order made on 21/06/2020
Gourmand et bien fruité, c'est notre préféré en famille.
You might also like
Green Christmas tea
cinnamon - almond
Organic fruit tea:
grenadine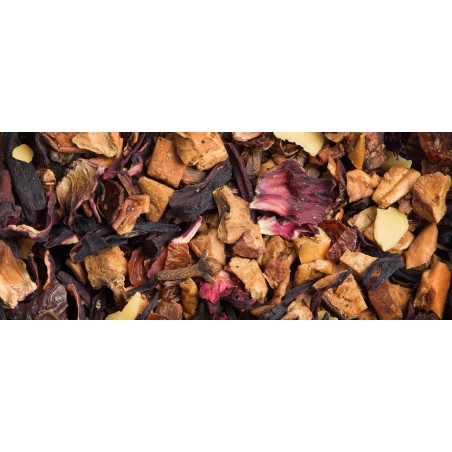 Spicy Christmas fruit tea