organic teas & excellence
Passion Orange
Fruit tea:
Passion fruit - Orange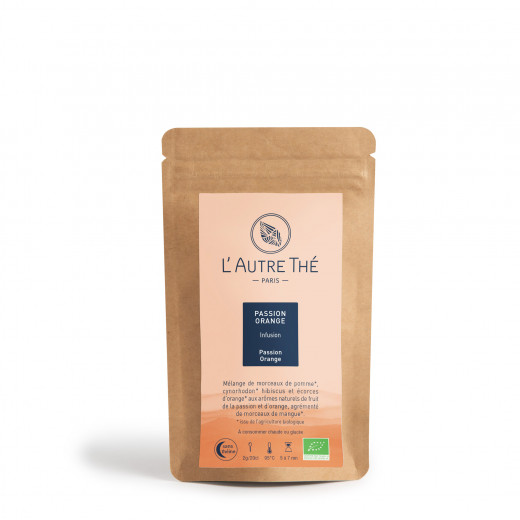  
Passion Orange
Fruit tea: Passion fruit - Orange - - En stock

Best seller

Bon en thé glacé

Description
This infusion « Passion Orange » is a fruit tea (a blend of hibiscus flower, fruit pieces and flower petals), based on apple and papaye pieces and orange skins. You can enjoy it warm or iced. Without theine and tannin, it is a real fruits feast!! 
Ingrédients
Pieces of apples, hibiscus, pieces of confit papaya, rosehip, orange zest (6%), flavouring, orange pieces (3%), passionflower (2%), orange blossom (2%).

Temperature of Infusion
100°C

Infusion time

Quantity
25g

Theine content
Theine free

Time of the day
Evening
Aurélie F. published the 30/06/2019 following an order made on 15/06/2019
Mon infusion préférée. Quelle forte odeur fruitée !
Leslie L. published the 21/06/2019 following an order made on 02/06/2019
Excellent
Catherine L. published the 21/05/2019 following an order made on 08/05/2019
Excellent
You might also like
Organic Rooibos
Blood Orange - Lemon
Organic Green tea / white tea
Citrus - Passion Fruit