organic teas & excellence
Bio Relax - Organic
Organic herbal tea
relaxing and comforting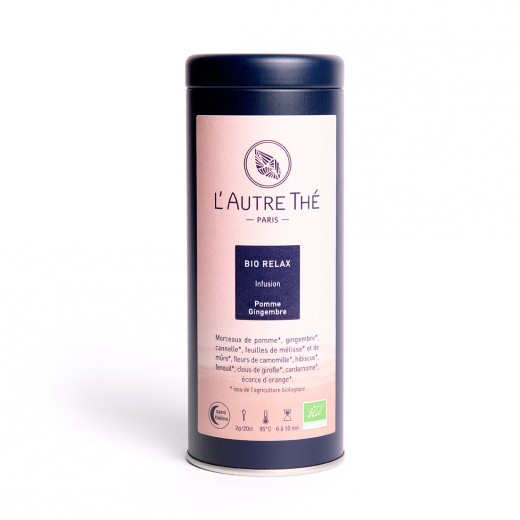  
Bio Relax - Organic
Organic herbal tea relaxing and comforting - - En stock

Description
The organic herbal tea "Bio Relax" is a made of apple pieces, ginger, cinnamon, balm, camomile and hibiscus flowers, fennel, cloves, cardamom and orange peels. The ingredients of this herbal tea are known for their relaxing properties : comforting cinnamon, calming balm and camomile, hypotensive hibiscus, stimulating cloves, reassuring cardamom and orange peels.
Organic certified by Bureau Veritas FR-BIO-10
Ingrédients
cinnamon*, lemon balm*, chamomile*, hibiscus*, cloves*, cardamom* and orange peel*. * From organic farming.

Temperature of Infusion
90° C

Infusion time
At least 5 minutes

Quantity
25g

Theine content
Theine free

Time of the day
Evening
Sylvie B. published the 16/11/2020 following an order made on 09/10/2020
Délicieux
Murielle P. published the 16/11/2020 following an order made on 09/10/2020
très bon
Sophie D. published the 10/06/2020 following an order made on 30/05/2020
Excellent
You might also like
Organic Rooibos
with chai spices
Organic herbal tea of soothing plants
with lemon
Organic infusion
with chaï spices