organic teas & excellence
Digestion - Organic
Organic herbal tea
with digestive plants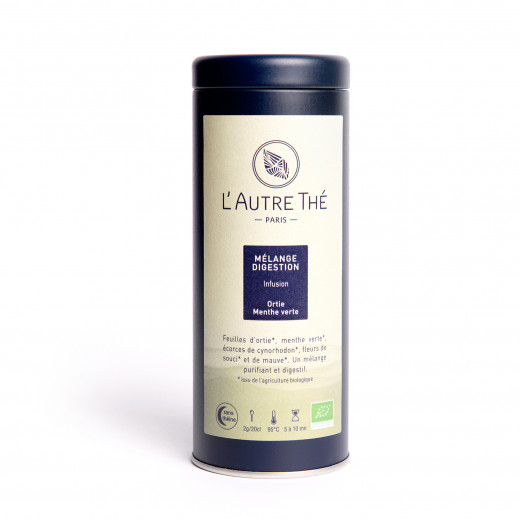  
Digestion - Organic
Organic herbal tea with digestive plants - En stock

Ingrédients
Nettle *, mint *, rosehip *, licorice root *, goji berries *, marigold flowers *, mauve *, guarana *. * From organic farming.
Description
This digestive herbal tea is made of mint leaves, nettle leaves, rosehip and liquorice. It is sprinkled with marigold flowers and mallow petals. The ingredients are famous for their capacity to eliminate toxins and make digestion easier.
*Organic certified by Bureau Veritas FR-BIO-10

Temperature of Infusion
100°C

Infusion time
At least 5 minutes

Quantity
25g

Theine content
Theine free

Time of the day
Evening
Doris G. published the 15/01/2020 following an order made on 17/12/2019
Agréable en gout et aide bien à digérer
Lydia P. published the 07/12/2019 following an order made on 21/11/2019
Idéale le soir après un bon repas
Elisabeth D. published the 21/06/2019 following an order made on 28/05/2019
Je ne sais pas! Conseil de Mme Cahaigne Aurore je vais le goutter bientôt.
You might also like
Organic rooibos
Peppermint
Organic herbal tea
Spearmint - Liquorice
Organic herbal tea
Verbena - Mint - Lemon balm