organic teas & excellence
Réglisse Menthe - Organic
Organic herbal tea
Spearmint - Liquorice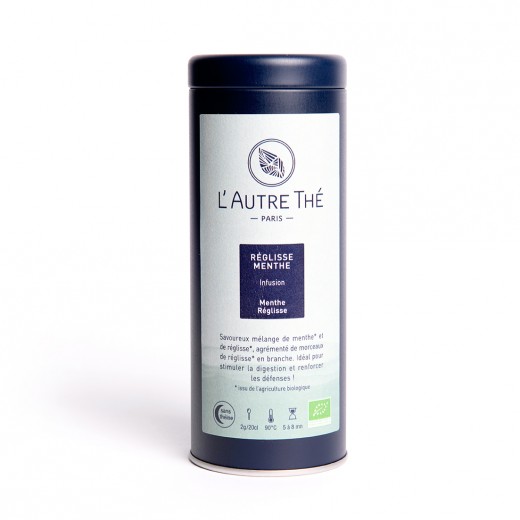  
Réglisse Menthe - Organic
Organic herbal tea Spearmint - Liquorice - - En stock

Ingrédients
Description
This organic "Réglisse Menthe" infusion is a blend of liquorice and spearmint leaves that will support your digestion. It can be savoured warm or iced at any moment of the day. 
Certified Organic Product by Bureau Veritas FR-BIO-10

Temperature of Infusion
90° C

Infusion time
At least 5 minutes

Quantity
25g

Theine content
Theine free
Christophe E. published the 23/03/2020 following an order made on 29/01/2020
j'adore , avec de vrais morceau de batons de réglisse
Violaine D. published the 21/06/2019 following an order made on 31/05/2019
Digestive après un bon repas
Claude C. published the 21/05/2019 following an order made on 11/05/2019
j'aurais souhaité une réglisse un peu plus présente ; la menthe prend très largement le dessus.
You might also like
Organic herbal tea of
invigorating plants
Organic herbal tea
Verbena - Mint - Lemon balm
ORGANIC "PURE INFU":
Eucalyptus - Sage