organic teas & excellence
Nuit Chaï - Organic
Organic infusion
with chaï spices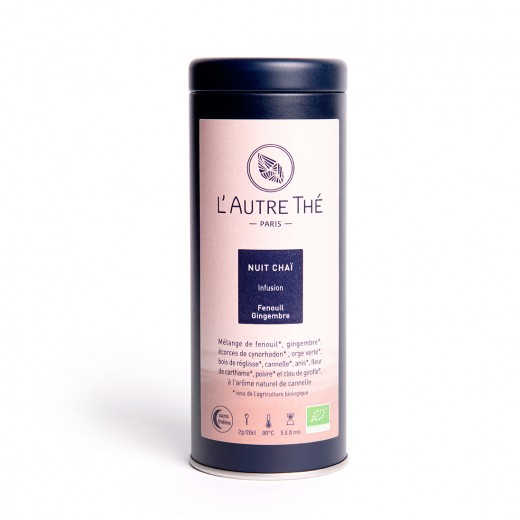  
Nuit Chaï - Organic
Organic infusion with chaï spices - En stock

Ingrédients
Fennel *, sweet ginger *, rose hip *, barley grass *, licorice root *, cinnamon *, anise *, safflower petals *, pepper *, cloves *, natural flavor. * From organic farming.
Description
This organic tea with spices and cinnamon will delight all gourmands and lovers of Indian spices.
Certified Organic Product by Bureau Veritas FR-BIO-10

Temperature of Infusion
90° C

Infusion time
At least 5 minutes

Quantity
25g

Theine content
Theine free

Time of the day
Evening
AUDREY R. published the 07/12/2019 following an order made on 16/11/2019
bon mais pas ce que je préfère comme tisane (gouts personnels)
Pauline S. published the 14/08/2018 following an order made on 07/08/2018
Excellente infusion aux notes épicées très agréable, gourmande et apaisante !
Chantal R. published the 02/05/2018 following an order made on 26/04/2018
usuellement, je fuis les mélanges thé/fruits/arômes/etc...J'ai découvert Nuit Chai Bio par un échantillon. Riche en parfums et épices, un peu déconcertant à la 1ère gorgée, j'ai adopté ce produit que je consomme l'après-midi avec grand plaisir.
You might also like
Organic Rooibos
with chai spices
Organic herbal tea
relaxing and comforting
Organic black tea
with Indian spices