organic teas & excellence
Berries - Organic
Organic Rooibos
with red fruits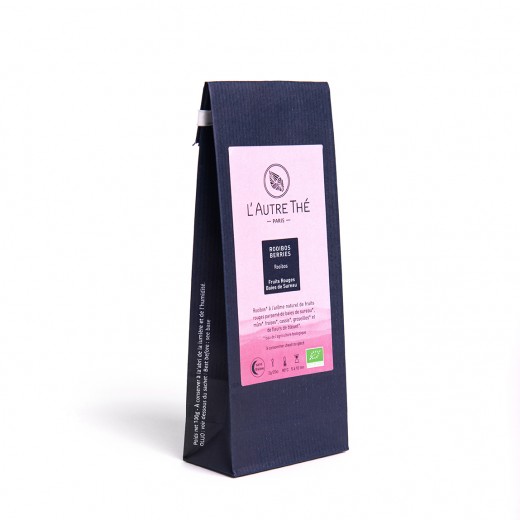  
Berries - Organic
Organic Rooibos with red fruits - Afrique du Sud - En stock

Description
This rooibos " Berries" provides you with the subtle taste of natural red fruits, raspberry and cranberry essential oils. It is supplemented with rose petals. It provides you with a smooth freshness that will brace you up ! You can also enjoy it iced. 
Certified Organic Product by Bureau Veritas FR-BIO-10
Ingrédients
Rooibos *, currant *, blackberry *, blackcurrant *, strawberry *, and sprinkled with blueberry flower petals *. * Produced from Organic Farming

Temperature of Infusion
100°C

Infusion time
5 minutes

Quantity
25g
ELODIE R. published the 26/11/2020 following an order made on 12/11/2020
Délicieuse !
Claire A. published the 23/04/2020 following an order made on 28/03/2020
Très bon
Nathalie J. published the 23/03/2020 following an order made on 29/01/2020
Très bon
You might also like
Fruit tea:
Cherry Blossom - Almond
Organic fruit tea:
grenadine
Organic green rooibos
and organic depuratives plants
Blackcurrant - Lemon