organic teas & excellence
Japan Lapsang
Black tea smoked with wood of
Japanese whiskey casks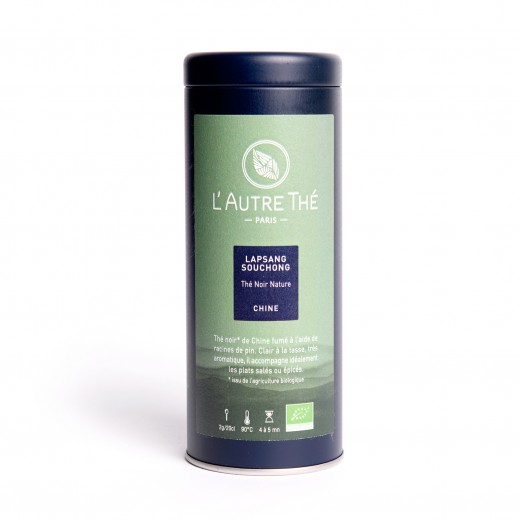  
Japan Lapsang
Black tea smoked with wood of Japanese whiskey casks - Japon - En stock

Description
This Japan Lapsang smoked tea is an exceptional black tea smoked. Coming from a small family plantation, it is smoked with wood from Japanese whiskey barrels, the smoking process lasts 7 hours and gives this tea smoky, peaty and extraordinary malty notes. The cultivar used is Yabukita and comes from Shizuoka province.
It is not as powerful as a traditional Lapsang Souchong, it is less strong but the aromatic palette is much larger. It has a very nice length in the mouth.
This is a tasting tea to enjoy in the afternoon, but also during or at the end of a meal.
Ingrédients

Temperature of Infusion
90° C

Infusion time
3 minutes
4 minutes

Quantity
25g

Theine content
Medium

Time of the day
Afternoon
Mélanie D. published the 02/05/2020 following an order made on 17/04/2020
Pas encore gouté, je le réserve à une grande occasion, mais je n'ai pas pu m'empêcher d'ouvrir le sachet pour sentir … cela présage un grand moment gustatif !
Franck M. published the 31/03/2020 following an order made on 08/03/2020
Très déçu par rapport au commentaire que vous en faites sur le site : goût quasi insignifiant… ce thé, quelconque, n'est en aucun cas à recommander – et sa provenance japonaise n'est en rien un gage de qualité.
Comment from L'AUTRE THE the 28/07/2020
Bonjour, Merci pour votre message. Notre Japan Laspang est très délicat si on le compare à un Lapsang Souchong traditionnel. Il est moins puissant aromatiquement mais beaucoup plus complexe et plus riches en notes aromatiques. C'est un thé rare, une originalité, et nous sommes profondément désolés que vous ne l'ayez pas apprécié. N'hésitez pas à jouer avec les paramètres d'infusion ( quantité de thé, température de l'eau ou temps d'infusion), cela vous permettra peut être de l'ajuster à votre palais. Bien cordialement, Le service clients
You might also like
Organic black tea from China
smoked with pine root
Organic black smoked tea
with bergamot