MY ACCOUNT
All you have to do is log in to your account and then in the sections 'My personal information' and / or 'My addresses', you will be able to modify your information.
To delete your account, you must request it via our contact form by email to contact@lautrethe.com or by phone at 09 82 28 12 51, all your information and personal data will be removed permanently from our database.
To receive all our information about our news and events, you can subscribe to our newsletter:
at the bottom of this page in the 'Subscribe to our newsletter' section by entering your email address
or directly from your customer account in 'My personal information' by ticking the box 'I require to receive your news', before validating the changes.
MY ORDER
We offer at the time of payment of your order, several modes:
payment by credit card for immediate and secure processing of your order,
payment by check or bank transfer with an order processing that will be made upon receipt of payment
You can cancel your order by making a request to our customer service via our contact form, by email to contact@lautrethe.com or by phone at 09 82 28 12 51 specifying your order number.
To modify an order, you must first cancel it and then reorder your order, taking into account your change wishes.
Take a picture of the product concerned and contact customer service either by email at 
contact@lautrethe.com
or by phone at 09 82 28 12 51 so that we explain the procedure to follow.
Make sure you are well connected to your account, if the problem persists you can contact customer service either by mail to 
contact@lautrethe.com
or by phone at 09 82 28 12 51 and place the order by phone.
You can not place an order without a customer account because we need to register your details and your address for sending the order.
It is possible to exchange a product if it has not been opened. To do this, contact customer service either by email at
contact@lautrethe.com
or by phone at 09 82 28 12 51
Preparation and delivery
It is prepared 24 to 72 hours after the validation of your order, you can follow its state in your account. An email containing a tracking number will notify you when the order will be shipped.
Perhaps there is a product out of stock, you will be notified if the delay exceeds 72 hours.
Our main partner is La Poste, the second being Mondial Relay.
From 40 € of purchase, the delivery costs are offered in Metropolitan France.
There is no possibility of delivery offered for Europe. To reduce shipping costs in Belgium, we advise you to opt for Mondial Relay delivery.
Unfortunately the tariffs of the carriers do not allow us to offer you the delivery for the shipments outside France.
6,90 € in colissimo without signature
7,90 € in colissimo with signature
5,10 € in Mondial Relay
For Europe 12 €,
For other countries, please consult our Delivery page or contact our customer service.
You can send your order directly to a friend or relative by stipulating his delivery address, you can even write a word to him.
Autour du thé
Respect brewing times and temperatures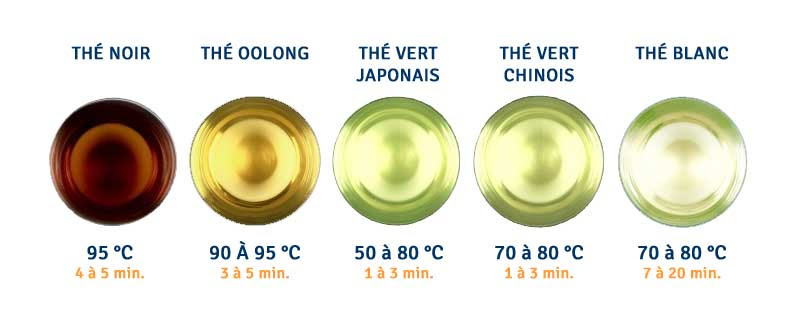 2.  Good water is essential for making a good tea
Use spring water or, if not, filter tap water.
Do not let the water boil because oxygen will evaporate and fade the taste of tea.
It's our nose and co-founder Arnaud DHENIN who creates L'Autre Thé blends
We can not afford to give samples, which is why we are one of the few tea houses to offer 10 g bags for sale from € 1. This allows you to discover every tea, even rare and unique teas.
L'AUTRE THÉ & You
Processing of personal data
These are data to identify you as a customer on our database, they can communicate with you and send you your orders.
Civility, surname, first name, email address, postal address, telephone number, date of birth.
They are only used to fill in the fields necessary to send your order. Your anniversary date to offer you a 10% discount on the week of your birthday.
In no case are they resold, given or exchanged.
In accordance with the Data Protection Act of 6 January 1978 as amended, and the General Data Protection Regulation 2016/679 of 27 April 2016, you have:
A right of access to your personal data,
A right to rectify your personal data,
A right to object to the processing of your personal data for legitimate reasons,
A right to the erasure of your personal data subject to legitimate reasons,
A right of portability of your personal data from May 25, 2018,
A right to "digital death", in accordance with the law for a Digital Republic, by giving us guidelines regarding the storage, deletion and communication of your personal data after your death. These instructions may be registered with a "digital trusted third party" certified by the CNIL. In the absence of a person designated to ensure the execution of these instructions, your heirs will be appointed.
In the absence of instructions given during your lifetime, your heirs will then have the opportunity to exercise certain rights, in particular: the right of access, if it is necessary "for the settlement of the estate of the deceased", the right opposition to close your user accounts and oppose the processing of their data.
To exercise these rights, simply make a written request:
by sending a mail to the following address: L'Autre Thé – 17 rue Lacharrière – 75011 PARIS
by an e-mail via the contact form.
An answer will be sent to you within one month from the date of receipt of your request. However, we reserve the right not to respond to requests that are manifestly unfounded.
About quality
Tea is a processed agricultural product. Their organoleptic properties (color, texture, flavor, volume) can vary from one crop to another, or even from one batch to another. The lots are carefully selected to offer you the best experience and ensure their relative consistency. This being the case, each new batch is unique and there will inevitably be more or less perceptible differences according to the palates. It is the same with scented and flavored teas, where the ingredients too can have more or less noticeable nuances. However, the qualitative requirement is always the same and L'AUTRE THE can not be held responsible for any variations.
The Best before date (DLUO) indicates the period of optimal use of the products, but that does not mean that they are out of date. This is the date beyond which the organoleptic (color, texture, flavor) and nutritional qualities of the products are no longer guaranteed by the brand.
If your bag has been kept in good conditions (protected from heat and moisture, away from odorous substances (tobacco, coffee, spices, etc.) and in a properly closed container), the product that is out of date is not a health hazard. While the freshness is no longer the same, but this product can still be consumed with the same pleasure without any risk.
All our natural products of origin (teas, rooibos and honeybush, herbal teas), as well as scented and flavored preserve up to 36 months. Pu'er teas are the only teas that get better over time, like wines, so there's no deadline for maximum durability.
It is strongly recommended to keep your teas and herbal teas in optimal conditions so that you can always taste them with the same pleasure:
Keep them away from heat, light, and moisture.
Keep them away from odorous substances (tobacco, coffee, spices, etc.).
Keep them in their original, properly closed container or in a box designed for this purpose.
In most cases, we use high quality teas from small gardens, in direct trade. Thus, thanks to the direct trade, we support small producers, while guaranteeing a certain stability in the quality of our products. The tea producers we work with live mainly in Southeast Asia (China, India, Sri Lanka, Japan, Vietnam, Laos, Thailand, etc.), rooibos comes from South Africa.
Flavored and flavored blends are devised by Arnaud Dhenin, who oversees their development in a certified laboratory.
About our teas
In traditional Chinese medicine, tea is contraindicated during pregnancy and lactation. However, when consumed in reasonable amounts and as part of a balanced diet, our teas can be consumed as a hot drink during a period of pregnancy and lactation.
It is also known that tea limits the absorption of iron, so it is not advisable to drink tea in case of anemia.
If in doubt, always seek medical advice.
For us, the addition of natural flavors is not intended to cover the flavors of tea or plants, but rather to give them new subtleties, to highlight their organoleptic richness.
Tea or plants are obviously the main aromatic ingredients. Thus, each recipe is meticulously prepared, respecting the fineness of the plants used. The choice of ingredients is essential in the development of our recipes, so we make sure to use only the best. We favor natural certified organic flavors, fruits, spices, flowers selected and chosen for their origin and quality. Flavors are framed by specific legislation. This is the European Regulation 1334/2008 which has been in force since January 2011.
They are specified with an asterisk on tea if they contain it, they are very rare in tea except teas that contain nuts or milk. You can find milk in caramel.
In the tea leaf there is:
Water: ¾ water for ¼ dry matter
Tannins or polyphenols: they give the frame, astringency, bitterness or velvety infusion. The main tannins are epigallocatechin gallate (EGCG), catechin and quercetin, all powerful antioxidants.
Alkaloids such as theine that gives bitterness, stimulates the central nervous system and helps to destroy fat.
Note: caffeine and theine are one and the same molecule
Amino acids (proteins) including theanine, relaxing and energizing
Vitamins including vitamins C, A, B1, B2, B6, B9, E and K
Minerals: fluorine, potassium, calcium, magnesium, zinc, manganese,
Aromas
Chlorophylls that give color
Carbohydrates and lipids in small quantities
Source: Organic teas: Pleasure, comfort and well-being, Béatrice THIBAULT - Natacha DUHAUT, Anagram Editions, 2007
Theine, tannin and theanine are all molecules present in tea. However, they have specific peculiarities.
For the same type of tea, it is difficult to prioritize the content of theine and tannin. Several factors will have a role on their presence in tea:
the period and year of harvest
the place of the leaf on the tree
the original altitude of the tea plants
the method of manufacture
The consumables we use to package our products comply with European Regulation 1935/2004 of 27 October 2004 on materials and articles intended to come into contact with foodstuffs. In addition, French law 2012-1442 provides for the suspension of the manufacture, import, export and placing on the market of any packaging, container or utensil containing bisphenol A intended to come into direct contact with with foodstuffs.
Preserve nature to the end of packaging!Respecting the environment goes beyond giving priority to organic teas. It is important for us to commit ourselves to the whole process. Eco-responsible and of an optimal quality, our packagings preserve the teas without altering their taste. Essentially manufactured in France, they use materials derived from renewable and biodegradable resources.
Our bags are kraft paper from sustainably managed forests (PEFC), solvent-free scotches, gift boxes made in France, printing with water-based ink.
Since the Fukushima disaster in 2011, strict specific regulations have been put in place to control each batch of tea from Japan and on arrival in France. Our suppliers have inspections done by certified organizations and have a zero tolerance on the indicators of radioactivity in tea.
Most of our teas are bought on the island of Kyushu, the most southern of Japan and are grown in organic farming. So there is no fear to have.