ORGANIC & EXCELLENCE TEAS
Set of 3 organic teas: Japan in everyday life
Matcha Sencha / Hojicha / Sobacha Breton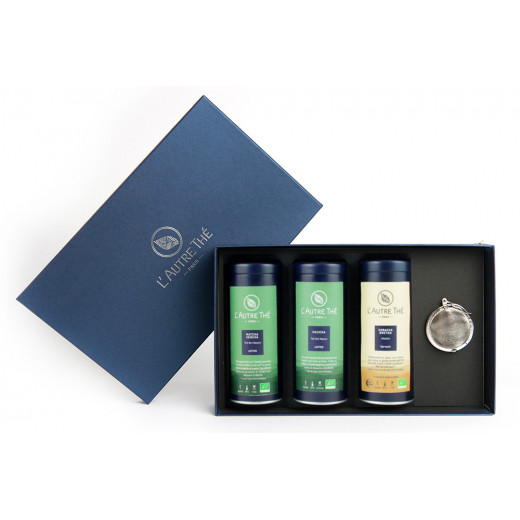  
Set of 3 organic teas: Japan in everyday life
Matcha Sencha / Hojicha / Sobacha Breton - En stock

100% secure payments
favorite_border
Add to my favorites
Description

This gift set includes a tea ball with sieve and 3 tins of 2 organic teas and 1 organic herbal tea around the theme of the teas drunk daily in Japan, during the day or during the meal:


Organic Matcha Sencha (100g tin): Blend of green Sencha tea and matcha tea powder, to enjoy the enveloping and fresh taste of matcha in all simplicity (we infuse the whole, no need for whip). The Sencha brings complementary iodine and vegetal notes. A perfect tea to fill up with energy and start the day on the right foot.


Organic Hojicha (90g tin): an emblematic tea in Japan, where it is served with meals (it goes particularly well with sushi). It is a roasted green tea, with woody notes slightly roasted round and soft, greedy and comforting. Very low in theine, it is appreciated by all, young and old, at any time of the day.


Organic Sobacha Breton (200g tin): The traditional infusion of roasted buckwheat (buckwheat) seeds, naturally gluten and caffeine free. Its thirst-quenching liquor is reminiscent of nuts (hazelnut, chestnut), buckwheat pancakes and toast. Buckwheat is full of minerals, perfect in case of fatigue. We can also consume these seeds in cooking where their crunchiness is wonderful in salty and sweet dishes.
You might also like
Quantité : 100 g (sachet)
Organic japanese green tea
very sweet with vegetal notes
Quantité : Boîte de 30 g
Organic Japanese green tea
for the tea ceremony
Quantité : 100 g (sachet)
Kukicha bio Thé vert japonais bio composé de feuilles et de tiges