organic teas & excellence
La Gourmande - Organic
ORGANIC "PURE INFU":
Cocoa - Coconut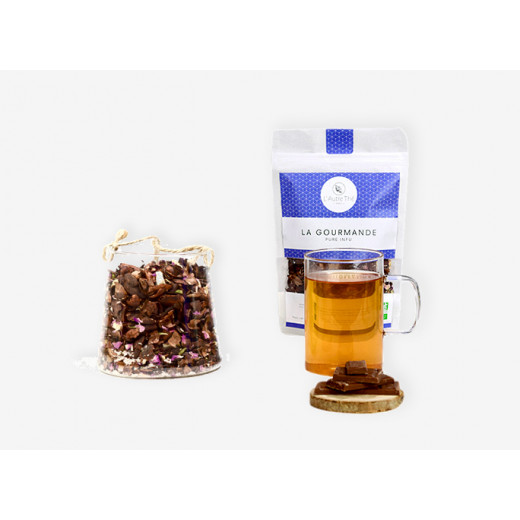  
La Gourmande - Organic
ORGANIC "PURE INFU": Cocoa - Coconut - - En stock

Description
Succumb to the temptation of cocoa and dive into the exotic sweetness of coconut.
Discover our range PURE INFU: the true taste of plants, 100% organic, no added aroma.
Product sold exclusively in Doypack bag with zip resealable 60 g.
Certified Organic Product by Bureau Veritas FR-BIO-10
Ingrédients
Cocoa pods *, coconut peels*, rose petals *, marshmallow root *, star anise *. * From Organic Farming

Temperature of Infusion
100°C

Infusion time
4 - 5 minutes

Quantity
25g

Theine content
Theine free

Time of the day
Afternoon
Nathalie H. published the 02/05/2020 following an order made on 30/03/2020
je n'aime pas la noix de coco en infusion
Violaine D. published the 21/06/2019 following an order made on 31/05/2019
Le plaisir du chocolat sans les calories
Corinne B. published the 11/04/2019 following an order made on 17/03/2019
Je n'ai pas senti le gout du cacao ni de la noix de coco et trop celui d'anis
Comment from L'AUTRE THE the 08/05/2019
Bonjour, Merci pour votre message. La pure infu "La gourmande" ne contient aucun arôme ajouté, son parfum est donc délicat. Cependant vous pouvez le renforcer en jouant avec les paramètres d'infustion pour l'ajuster à votre palais. Bien cordialement, Le service client.
You might also like
Organic white & green teas
Vanilla Cookie
Organic black tea
chocolate - orange