ORGANIC & EXCELLENCE TEAS
Gift box "3 organic best-sellers" + tea infuser
Gift Box "3 Thés bio best-sellers" Bio Detox / Earl Grey Vert / Jardin des Songes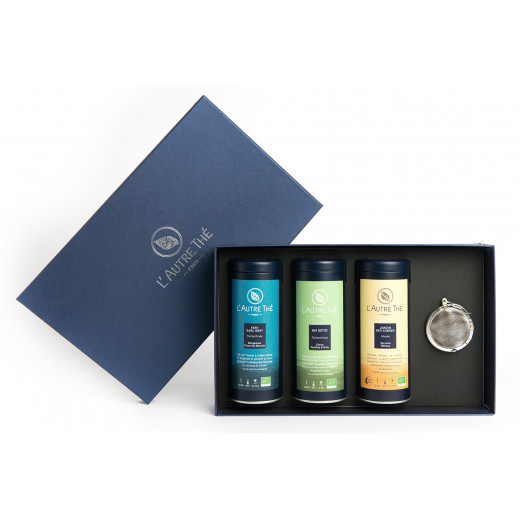  
Gift box "3 organic best-sellers" + tea infuser
Gift Box "3 Thés bio best-sellers" Bio Detox / Earl Grey Vert / Jardin des Songes - En stock

100% secure payments
favorite_border
Add to my favorites
Description
This gift box is composed of tea mesh ball and of 3 tins of around 80g of organic teas and herbal tea :
Bio Detox (70 g): organic blend of Sencha green tea and Paï Mu Tan white tea, horsetail and lemon grass, naturally flavoured with lemon.
Earl Grey vert (80g) : This organic green tea Earl Gray is a Chinese Sencha green tea with Sicilian bergamot sprinkled with blueberry flowers.
Jardin des Songes (40g) : This "Jardin des Songes" is a blend of verbena leaves, lime tree, camomile, balm, lavender, valerian, passionflower herb, with natural lemon flavoring. Its relaxing properties are reinforced by the sweetness of lavender. The perfect herbal tea in the evening!