organic teas & excellence
Terroirs d'Afrique - Organic
Terroirs d'Afrique
Rooïbos & Cocoa
 
Terroirs d'Afrique - Organic
Terroirs d'Afrique Rooïbos & Cocoa - En stock

Description
Last creation of Arnaud DHENIN this mixture is composed only of organic rooibos from South Africa and cocoa bean pods from Madagascar.
Two terroirs of Africa meet and give birth to a rooibos for gourmets.
This mixture develops notes of cocoa and a slight bitterness balanced by the roundness and woodiness of the rooïbos.
The rooïbos is a bush endemic to South Africa, it has many virtues, many minerals and vitamins.
It is free of theine which allows it to be drunk all day, including by children or pregnant women.
Certified Organic Product by Bureau Veritas EN-BIO-10
Ingrédients
Rooibos* from South Africa, cocoa bean pods* from Madagascar. *From organic farming.

Temperature of Infusion
100°C

Infusion time
4 - 5 minutes

Quantity
25g

Theine content
Low

Time of the day
All day long
Debora H. published the 02/03/2021 following an order made on 22/02/2021
Délicieux ! Un léger parfum de cacao, idéal pour les amoureux de chocolat noir.
Marianne P. published the 02/02/2021 following an order made on 18/01/2021
Très bon, mais un tout petit peu déçue du goût des cosses de cacao assez peu présent.
You might also like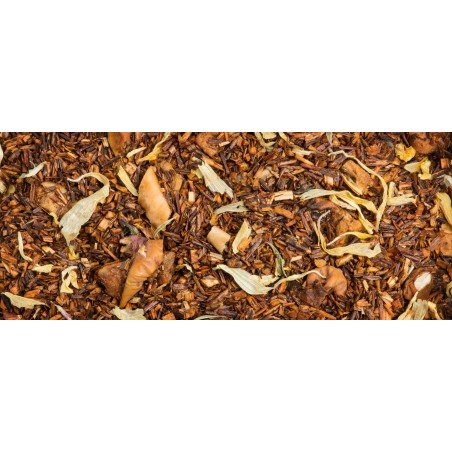 Christmas Rooibos
Apple - Caramel
Organic Rooibos
Vanilla - Dates - Coco
Organic Fruit tea:
Apricot - Honey - Cardamom