organic teas & excellence
Nectar d'Orient - Organic
Organic Fruit tea:
Apricot - Honey - Cardamom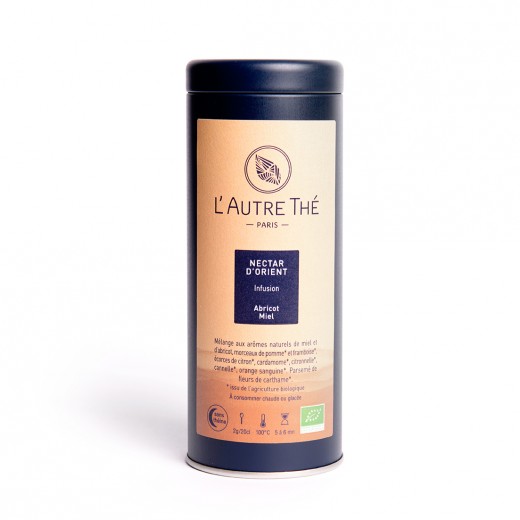  
Nectar d'Orient - Organic
Organic Fruit tea: Apricot - Honey - Cardamom - En stock

Description
The organic infusion « Nectar d'Orient » is a fruits tea with natural flavors of apricot and honey. It is based on apples bits*, citrus peels*, cardamom fruit*, lemon grass*, cinnamom*, blood orange slices*, raspberries*, safflower  You can enjoy it warm or iced. Without theine, organic, this infusion will surprisingly delight you !
Organic certified by Bureau Veritas FR-BIO-10
Ingrédients
Apple pieces *, lemon zest *, whole cardamom *, lemongrass *, apple chips *, natural aroma, blood orange zest *, raspberries *, safflower petals *, lemon myrtle *. * From organic farming.

Temperature of Infusion
100°C

Infusion time
At least 5 minutes

Quantity
25g

Theine content
Theine free

Time of the day
Evening
CHRISTELLE G. published the 01/05/2020 following an order made on 03/04/2020
Très bon. Cependant le parfum d'abricot n'est pas suffisamment présent à mon goût.
Claire A. published the 23/04/2020 following an order made on 28/03/2020
Excellent
Patricia G. published the 14/11/2019 following an order made on 04/11/2019
Gourmand agréable pour l'hiver
You might also like
Organic Rooibos
Vanilla - Dates - Coco
Organic rooibos
with Vanilla
Organic Green tea / white tea
peach apricot