organic teas & excellence
Digestion - Organic
Organic herbal tea
with digestive plants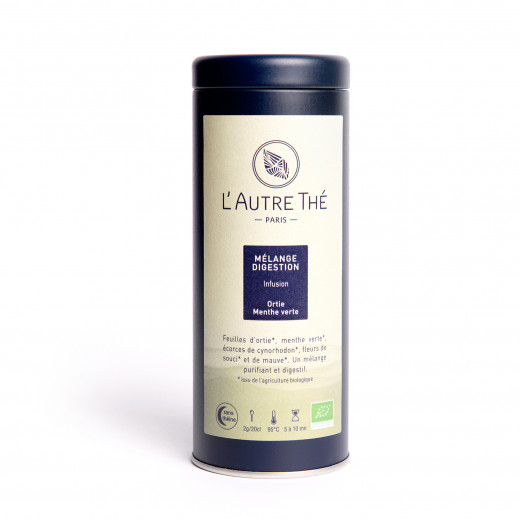  
Digestion - Organic
Organic herbal tea with digestive plants - En stock

Description
This digestive herbal tea is made of mint leaves, nettle leaves, rosehip and liquorice. It is sprinkled with marigold flowers and mallow petals. The ingredients are famous for their capacity to eliminate toxins and make digestion easier.
*Organic certified by Bureau Veritas FR-BIO-10
Ingrédients
Nettle *, mint *, rosehip *, licorice root *, goji berries *, marigold flowers *, mauve *, guarana *. * From organic farming.

Temperature of Infusion
100°C

Infusion time
At least 5 minutes

Quantity
25g

Theine content
Theine free

Time of the day
Evening
Cėcile W. published the 17/12/2020 following an order made on 15/11/2020
Très efficace et il est bon en plus !
ELODIE R. published the 26/11/2020 following an order made on 12/11/2020
Très bonne.
Claude M. published the 16/09/2020 following an order made on 05/08/2020
Un peu déçue, manque de parfum.
Comment from L'AUTRE THE the 17/09/2020
Bonjour, Merci pour votre message. N'hésitez pas à ajuster les paramètres d'infusion ( temps d'infusion, température de l'eau, quantité de feuilles) pour ajuster l'infusion à votre palais. Bien cordialement, Le service clients
You might also like
Organic rooibos
Peppermint
Organic herbal tea
Spearmint - Liquorice
Organic herbal tea
Verbena - Mint - Lemon balm